Latvian garlic bread is not your regular white bread smeared with garlic herb butter and eaten as entree before pizza. Latvian garlic bread is made from rye bread (rupjmaize) and the goodness of raw garlic. It may not be to everyone's taste, but, trust me, it is perfect on a hot summer's evening with a glass of cold beer.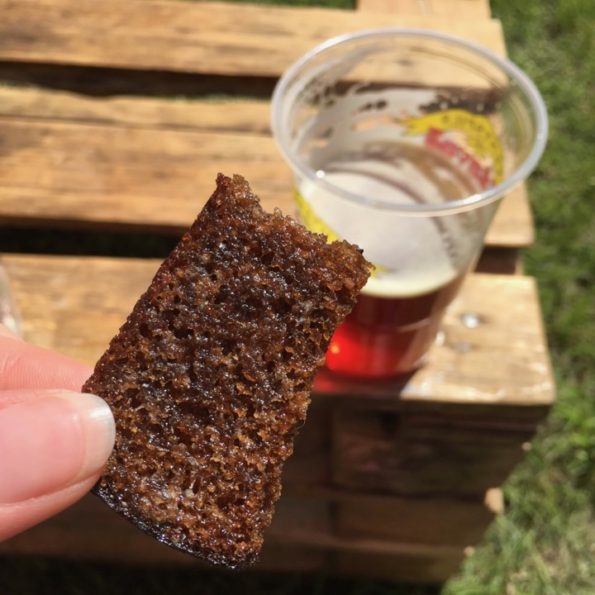 Traditionally garlic bread would be made from the cheap, loaf tin baked rye bread, commonly known as "ķieģelītis" (little brick) – it is more porous so it can suck up more oil and garlic. I don't have the luxury of finding one (and I have tried what Australian's call rye bread, that just does not quite cut it), so I sacrifice some slices of the good stuff.
There are couple ways how to make your own garlic bread. More intense flavour can be achieved if you have some time to spare. Start by cutting sliced bread 2-3cm  wide. Then heat generous amount of oil in a frying pan on high heat, add bread slices to the pan and fry on both sides for couple minutes. Remove bread from the pan and place on a paper towel to absorb excess oil. Take a clove of garlic and rub against both sides of fried bread. Garlic bread made this way will be softer and less chewy too.
A quicker way is to cut sliced bread in 1cm sticks, drizzle with oil and bake them in 200 degree oven until they are crunchy. Then remove them from the oven, place in a bowl and let them cool down slightly. Add freshly minced garlic and a bit of salt to the bowl, cover the bowl and shake well.
Save
Save