When you look at a recipe that requires a dozen eggs as a minimum, you know you have hit Latvian cooking gold. The name has it all – lauku torte ar vārīto krēmu un dzērveņu ievārījumu, literally, "country cake" or "rural cake" with "boiled cream" and cranberry jam to showcase readily available ingredients.
But this is not a recipe for novices and faint-hearted: four layers of sponge and custard that wants to turn in to scrambled (burnt) eggs will test your skills and patience. The result, however, is fantastic. Light, fluffy, indulgent cake, both sweet and sour, that demands seconds (and thirds).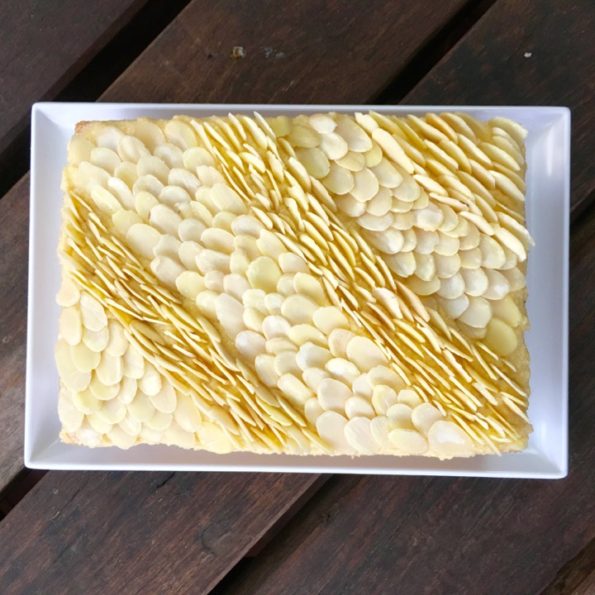 Couple notes:
I baked my cake in a baking tray instead of traditional springform cake pan – it is easier to decorate and clean up square edges. I also kept decorations to a minimum and did not cover the sides of the cake with custard.
Custard will require a lot of attention as it will tend to thicken very fast and stick to the bottom of the saucepan. The amount of custard made is anyone's guess, but the best way is to separate it in even parts so there is enough for each layer and decorations.
You will have more cranberry jam than you need for this cake, but you can always store it in a clean jar and use it on pancakes.
As for the sponge – do not open the oven door while it is baking as the sponge will go flat (so there's a good reason to clean that oven glass). Good luck!
Ingredients
Sponge (per layer)

3 eggs
3 tbs flour
3 tbs caster sugar
1 tsp vanilla sugar

Chocolate sponge (per layer)

3 eggs
3 tbs flour
3 tbs caster sugar
2 tbs Dutch cocoa powder
(optional) 1 tbs dark rum

Jam filling

500g fresh or frozen cranberries
100g sugar

Custard filling

600ml milk
200g caster sugar
6 egg yolks
6 tbs flour
1 tsp vanilla sugar
300g butter
Instructions
For the sponge (per layer)

Preheat oven to 180 degrees Celsius or 350 Fahrenheit.
Grease the sides of a spring form tin with butter.
Cut out a circle from baking paper to cover the bottom of the baking tin.
Carefully separate egg yolks from whites.
Add sugar to egg yolks and beat together until mixture is thick and pale.
Sift flour over egg mixture and slowly stir flour through.
In a separate bowl whip egg whites with electric mixer until soft peaks form.
Fold egg yolk mixture in the whipped egg whites.
Pour the mixture in the tin and level the batter with spatula.
Bake for 15 minutes or until or until sponge is golden brown and have shrunk away from the sides slightly.
Turn out the sponge on to wire rack. Carefully peel away baking paper, then leave to cool.

For chocolate sponge

Follow all steps and add the cocoa powder (and rum) at the same time when adding flour.

For the jam

In a heavy-bottomed saucepan, combine cranberries and sugar. Heat over medium-high heat, stirring every few minutes, until sugar dissolves and berries release moisture, about 10 to 12 minutes.
Transfer cranberry mixture to a blender (or use stick blender). Blend until there are no lumps or skins.
Return mixture to the heavy-bottomed saucepan and heat over medium heat, stirring every few minutes to prevent scorching. Cook until jam thickens, coats the back of the spoon, and does not slide off the spatula or spoon when tested, about 15 to 20 minutes.

Custard filling

Beat egg yolks with sugar, vanilla sugar and flour.
Heat the milk and add to the egg mixture.
Pour the egg mixture in a saucepan and heat over low heat (alternatively, place the bowl with mixture in water bath over low/medium heat) and stir constantly. When the mixture thickens, cool down the saucepan (or bowl) quickly in a larger bowl or sink filled with water.
When the custard has cooled down, in a separate bowl beat the butter with 1 tbs sugar and add to the custard. Mix well together.

Assembly

Place your first layer on a cake stand or serving plate. Put custard on in and even it out with spatula.
Place second layer on top (usually chocolate sponge). Generously spread jam over the sponge and put some custard on top of jam.
Repeat layering for as many layers as you have, but reserve custard for the top layer and sides of the cakes, if desired.
Decorate with berries, fruit, nuts and crumbs.
https://latvianeats.com/lauku-torte/
Save
Save