When food is involved, every Latvian will have their own recipe for everything and anything. Most heated discussions, however, revolve around the best pīrāgi dough and what is the correct way to make rasols. You see, I grew up in 80-ies with rasols made from potatoes, green peas, salted cucumber, "doctor's sausage" and eggs. I know other families added boiled carrot and/or grated apple (but that's just wrong as far as I'm concerned). But ask any Latvian that left the country pre-WW2 and they will tell you that rasols must have boiled beetroot and herring in it.
Rasols was inspired by Russian or Olivier salad, invented in 1860s by Lucien Olivier, then the chef of famous restaurant Hermitage in Moscow. His recipe was a closely guarded secret, but the salad did contain rare and expensive ingredients – grouse, crayfish, caviar, smoked duck, capers – which would explain the richness of pre-war rasols. During and after the war many ingredients were not available and were replaced by simpler and cheaper substitutes – sausage for grouse, eggs for crayfish and pickles for capers – resulting in the version most Latvians will recognise as theirs.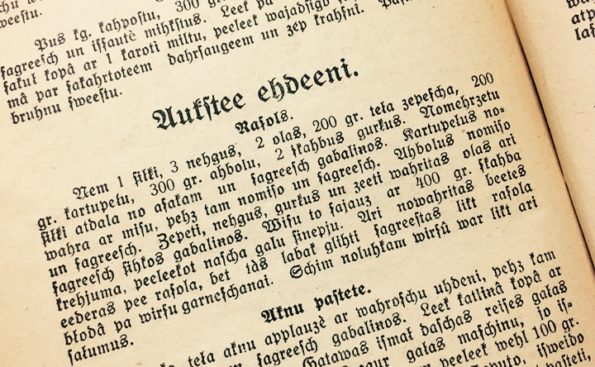 So what is real, undiluted rasols?
According to Household Almanac ("Mājturības kalendārs", photo above) published in 1937 in Riga, recipe is as follows:
Take 1 herring, 3 lampreys, 2 eggs, 200g veal roast, 200g potatoes, 300g apples, 2 salted cucumbers. Debone soaked herring and cut in pieces. Boil potatoes with skin on, then peel and cut. Peel apples and cut. Roast, lamprey, cucumbers and hard boiled eggs also need to be chopped in fine pieces. Mix everything with 400g of sour cream with added pinch ("naža gals") of mustard. Boiled beets also suit rasols, but it is better to cut them nicely and use as a garnish on the top of salad. Herbs can also be used as garnish. 
Save
Save
Save
Save
Save
Save