What do you do with jam that has gone off? Latvians in all their thrifty knowledge will have an answer for this, of course.
To be fair, in the modern world where many do not make their own jams and preserved anymore, this question becomes almost obsolete. Store brought stuff will keep for years; trust me, I've tried. But every once in again I can find a jar of jam that has been hiding at the back of the fridge and from memory survived three house moves. See, it was a special jam – melleņu zapte (bilberry jam), brought to Australia from Latvia. Yet, it has finally had its day – it has gone a  bit sour and a little bit bubbly.
As it cannot go on pancakes anymore, it can become a cake itself. Ievarījuma kekss (jam tea cake) is where the old jams shine. I remember it vividly from my childhood as it was one of the rare home-baked goods I would ever get (my family is not keen on baking). It was always baked in a bundt cake pan, and it was always dusted with icing sugar whizzed in a coffee grinder. Making icing sugar was a thrill itself!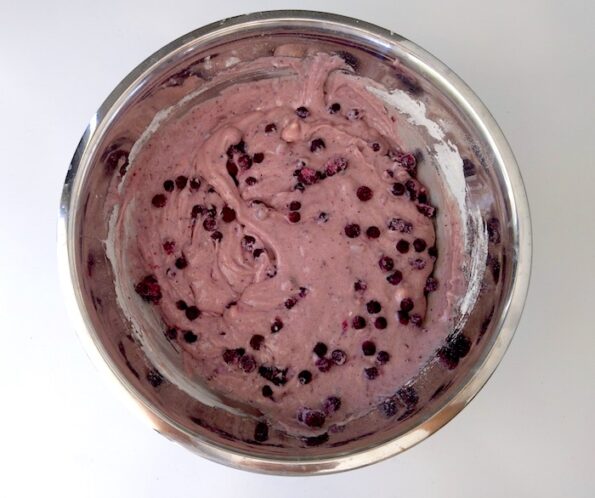 This is a very easy and very thrifty recipe. You can make it from fresh jam (pick your own flavour), add sultanas, nuts or frozen or fresh berries, or just leave it plain. I do suggest baking it in lower temperatures for a longer time, otherwise the cake will come out dry.
Jam tea cake (Ievārījuma kēkss)
Ingredients
1 cup jam
1 cup sugar
1.5 tsp baking powder or bicarb soda
2 large eggs
1 cup sour cream or plain yogurt
2 cups flour
Icing sugar for dusting
Butter and flour or breadcrumbs to prepare the tin
Instructions
In a medium sized bowl mix together jam, sugar and baking powder. Leave it to rest for 45 minutes in the fridge.
Preheat the oven to 180C or 350F. Prepare the bundt pan by rubbing the inside with butter and sprinkling with flour or breadcrumbs. Make sure to remove excess crumbs/flour.
Add eggs and sour cream to the jam mixture. Mix well. Add flour and any other ingredients (nuts, sultanas, berries), mix well.
Pour the batter in the prepared bundt pan.
Cover the pan with foil and place in the oven for 45 minutes to an hour (this will depend on your oven). To test if the cake is ready, insert a wooden skewer in it - if it comes out clean, cake is done.
Remove the pan from the oven and let it cool down for 30 minutes before tipping the pan over on a plate to remove the cake.
Make sure the cake has cooled down completely before dusting it with icing sugar.
https://latvianeats.com/jam-tea-cake-ievarijuma-kekss/