Christmas celebrations in Latvia are rich in tradition with a sprinkling of superstition. Although now Christmas has been tamed down to a quiet family celebration, it used to be a three-day celebration coinciding with winter solstice with tables heaving with food and many joyous activities to join.
Just like today, homes were decorated for Christmas: spruce was cut down and brought inside and decorated with gingerbread, small apples, ribbons and candles. Another traditional Christmas decoration is making puzurs. It can be very elaborate (just google for pictures, you won't be disappointed) when made from reed or straw or quite simple when made from sticks and yarn. Puzurs is hanged in the center of the room so it has space to spin around to capture all evil spirits and bad energy from the house.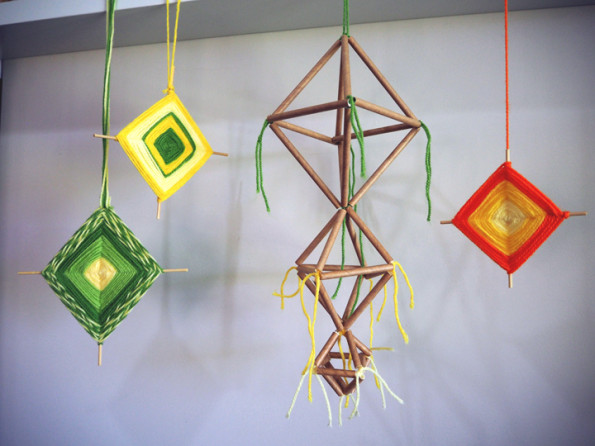 To bring prosperity to the next year, tradition demands at least nine different dishes to be served on Christmas Eve. Typical Christmas dishes are pork roast, sauerkraut, boiled grey peas (so there are no tears in the new year) and broad beans, fish (its scales dried and carried around in the wallet to attract money), white bread and salt (for blessing), beer, bacon buns (pīrāgi) and gingerbread. The festive table would not be cleared for the whole night so that prosperity continues in the new year.
One of the traditional activities was dressing up as all kinds of creatures (budēļi or ķekatas) and dragging a yule log from household to household and then burning it to get rid of the troubles of the year just gone and to speed up the return of the sun.