Riekstiņi ("Little nuts") is the closest thing to a cookie sandwich you can get in Latvia. It usually is made in the shape of a walnut; the dough is baked in special half-nut shaped moulds, and cookies are filled with boiled condensed milk (dulce le leche).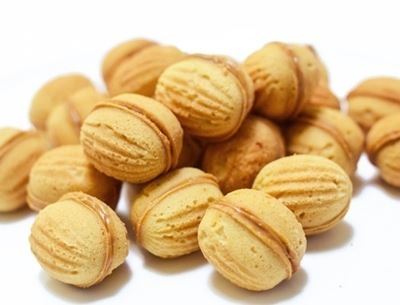 Living in Australia, I do not own riekstiņi moulds. I know they can be purchased from Amazon and eBay, where even fancier stovetop or electric pan versions are available – they can make 10 to 20 cookies in a go. What I have found, is a Madeleine pan does the job quite well. Is it the real cookie shape? No. Do they taste the same? Yes.
So don't despair if you don't own the cookie moulds, and you don't have to invest a small fortune just to obtain them. I have used both 12 hole and 24 hole madeleine pans, personally, I prefer a smaller cookie. Another shortcut – use a store-bought caramel or dulce le leche. I have made it at home before, but the fear of the tin exploding while simmering sent my anxiety levels through the roof. Ready-made stuff does not taste much different and it is so much more convenient.
Caramel cookies (Riekstiņi)
Ingredients
1 cup butter (300g)
3 cups flour
3/4 cups caster sugar
1/4 tsp salt
1 tsp baking powder
1 egg
1 jar/tin dulce le leche caramel
Instructions
Combine butter, flour, sugar, salt and baking powder in a medium sized bowl. Add a whisked egg. Mix well together until a ball of dough forms.
Place the dough in the fridge for 30 minutes.
Preheat the oven to 180C/350F. Grease the tray with butter.
Place a ball of dough in each madeleine hole and flatten to fill the shape.
Bake in the oven for 10-15 minutes until the top is light brown.
Remove the pan from the oven, use a chopping board and place it on top of the pan, flip over so that cookies stay on the board.
Let them cool completely.
When the cookies are cold, place a heaped teaspoon of caramel (or more if you feel like it) on a cookie and place another cookie on top. Make sure shell shapes are facing outside.
Notes
This amount of dough will make 15 large or 30 small cookies (ready to serve). If you want to make your own caramel, take a tin of condensed milk, place it in a large saucepan filled with water. Bring water to a boil, then reduce the heat and simmer the water with the tin in it for 3 hours, making sure the tin is always submerged under water (it can explode otherwise). Remove the tin from the water with tongs and let it cool completely before opening.
https://latvianeats.com/caramel-cookies-riekstini/