Recipe #322 in my 1926 cookbook Vārīšanas un cepšanas māksla is šokolādes ķīselis (chocolate kissel). The recipe goes like this: "boil 1 stops* of water with 1/2 pod of vanilla, add 4 spoons of cocoa, bring to a boil, add sugar. Dissolve 3-4 spoons of potato flour into a 1/2 glass of water, add slowly while stirring. Serve with vanilla sauce".
This one is for all chocolate lovers – šokolādes ķīselis is a dessert that comes together in minutes and can be eaten on its own, with milk or vanilla sauce. My kids love it, and it is one of the dishes they request me to make time and time again, as it was served at their school in Latvia. They would not touch fruit or berry kissel though.
I've tried this recipe a few times, and the conclusion is that this amount of water (just over 5 cups) requires more cocoa powder and more potato starch. The original recipe does not state how much sugar to use, so I have included that in the updated version. The result will be not overly sweet kissel with a thick jelly-like texture and a decent wobble. If you like a more liquid ķīselis just add less potato starch.
*Stops is an old measurement of liquid, equal to 1.273 litres (just over 5 cups).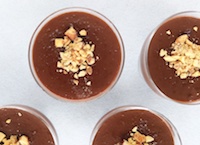 Chocolate kissel (Šokolādes ķīselis)
Ingredients
5

cups

water

1/2

tsp

vanilla extract

5

tbsp

cocoa powder

6

tbsp

sugar

8

tbsp

potato (or corn) starch
Instructions
Bring water to a boil. Add cocoa powder and vanilla extract and mix well. Add sugar and bring to a boil. Reduce the heat.

In a small cup dissolve the potato starch in cold water. Gradually add the starch to cocoa. Keep stirring until the mixture thickens.

Pour kissel in serving bowls. Let it cool completely before serving.

Serve with milk, nuts or vanilla sauce.