Despite Latvians being passionate and dedicated mushroom pickers, mushroom soup is not something you will encounter at cafes, bistros and restaurants often. I have only ever eaten this soup in my omamma's kitchen and while visiting the Latvian school in Adelaide, but I recently did encounter a very similar recipe in an American cookbook where it was presented as Latvian mushroom soup. If you are lucky enough to get your hands on wild forest mushrooms, use them instead of dried porcini. If you cannot find dried porcini, just use a mix of raw mushrooms – the soup will still taste divine.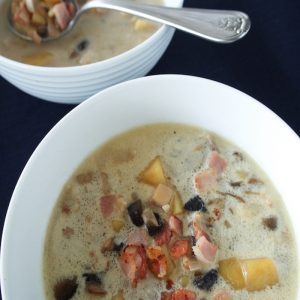 Mushroom soup
Ingredients
25

g

dried porcini mushrooms

1

cup

warm water

250

g

mixed fresh mushrooms

1

small onion

2

tbsp

oil

3

slices

streaky bacon

4

cups

water

4

medium potatoes

1

cup

heavy (double) cream
Instructions
Place dried mushrooms in a medium bowl and add warm water. Let them sit for 30 minutes. Remove the mushrooms from the liquid and finely chop them. Reserve the soaking liquid.

Cut the fresh mushrooms into even pieces. Finely chop the onion. Warm oil in a large frying pan, and add onion. Cook onion until it has softened. Add raw mushrooms and soaked mushrooms and cook for 5-7 minutes.

Finely chop bacon. Heat up a separate pan and add bacon pieces. Fry for 4-5minutes or until the bacon has browned and crisped up.

Peel and cube potatoes. Pour water in a medium pot on medium-high heat. Add potatoes. Bring the pot to aboil, and simmer for 5 minutes. Add onion and mushroom mixture.  Simmer for 5 minutes or until potatoes are soft. Add cream, and bring soup to a boil. Add cooked bacon. Remove from heat and serve.