Līgo and Jāņi or summer solstice is one of the biggest Latvian celebrations. Celebrated on June 23 & 24, it is two days and a night of food, singing and dancing. Traditions demand that the house is decorated with flowers, birch, oak and rowan, beer is made, cheese is tied and the celebration table does not run out of food. Even though this is the shortest night of the year, it may be a tough job for the hosts as no one would sleep in order to gain good health and cheerful spirit for the following year. The night is spent singing, eating, drinking, having a bonfire (and jumping over it to prevent evil spirits and illness) and looking for magical fern blossoms (symbol of fertility, if you get my drift).
It is the duty of the hostess to tie the cheese and give it to any visitors (Jāņa bērni) coming in their yard. According to Latvian customs, providing the cheese makes hosts' cows to produce milk in abundance and ward off illness. These days most of the people live in a city, but Jāņu siers (cheese), either store-brought or home-made, is always on the table.
As I have not made the cheese before, and I can recall only one occasion it was made at home, the recipe has been based on the multiple internet searches and common sense. So get your muslin cloth ready and tie some cheese!
Update 2017
Here are some tips and tricks, picked up by members of Latvian Favourite Foods Facebook group:
– Don't boil the milk, wait for first 3-4 bubbles
– If no whole milk (over 3%) is available, add 100ml of cream to milk
– Temperature is very important: the dry cheese has to melt when it is put back into the pot
– If not heated long enough, the cheese will be crumblier
– Dry curd cheese is the best, well drained cottage cheese also works. In the United States farmer's cheese is the one to use.
If making cheese from the scratch seems too daunting, there is a shortcut, based on a family recipe shared by Maija. As with many Latvian recipes, it does not specify quantity of cheese, eggs or salt required, all is "pēc garšas" (based on taste).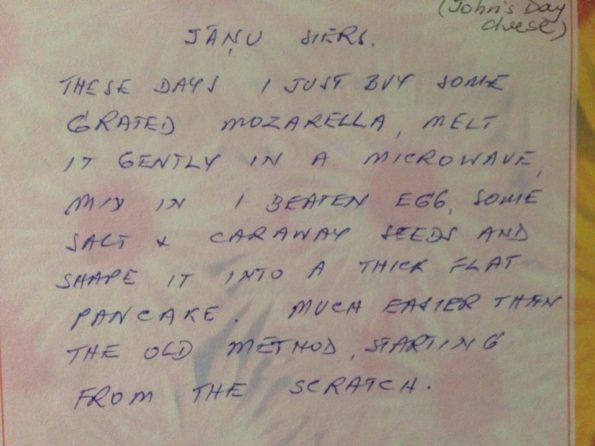 Whichever recipe you chose, let us know how you went!
Latvian Cheese (Jāņu siers)
Ingredients
3l full fat milk
1kg cottage cheese
2 eggs, lightly whisked
100g butter
2 teaspoons caraway seeds
2 teaspoons salt
50x50 cm cheese cloth
Instructions
Pour the milk in a large saucepan and add the cottage cheese. Heat the mixture on a low heat stirring frequently.
After 15-20 minutes the milk and cheese will separate, creating yellow-green whey.
While milk and cottage cheese is heating up, melt the butter in a separate pot over low heat.
Place a fine sieve over a large bowl and pour the mixture in the sieve. Once it is well drained, add the cheese mixture to the pot with melted butter.
Turn the heat on low, and mix the cheese mixture with butter. Add egg, caraway seeds and salt and combine well. Heat the mixture for about 3-4 minutes while stirring constantly. It will become thicker and the curds will be more prominent.
Place the cheesecloth in the sieve and pour the mixture in it. To "tie" the cheese pull the corners of the cloth together and spin them until you get a parcel of cheese.
Place the cheese parcel into a bowl, cover with a plate to add weight on top and place the bowl in a fridge.
Cheese is ready to eat when completely cooled down, but ideally after 24 hours.
Notes
To get brighter yellow coloured cheese you can add a teaspoon of turmeric or couple drops of yellow food colouring.
https://latvianeats.com/latvian-cheese-janu-siers/
Save
Save
Save
Save
Save
Save
Save
Save
Save
Save