I am willing to bet that every Latvian growing up has eaten, or at least has been served, copious amounts of semolina (cream of wheat) porridge (mannas or mannā putra). I am no exception. It was served either for breakfast or late in the evening, after a hot bath. I still remember sitting at a table in my grandparents' house, wearing a nightie and a bowl of steaming porridge sprinkled with sugar in front of me.
I have to admit that I haven't cooked semolina porridge for a while – oatmeal tends to be my go-to porridge. However, mannā feels more like childhood, a good nostalgia food.
Recipe I have added here will make slightly thinner and creamier porridge, enough for a large breakfast for one. If you like more bite to your porridge, use less milk – you can always add a bit more milk to thin it out, if necessary.
Porridge toppings can be quite varied – you can sprinkle it with sugar, cinnamon, add a spoonful of your favourite jam or marmalade, melt a spoonful of butter in it or cover the porridge with fresh berries.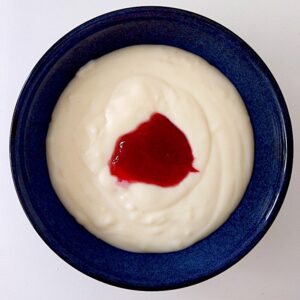 Semolina Porridge (Mannas putra)
Ingredients
2

cups

milk

1/2

cup

semolina

1

tbsp

sugar

1

pinch

salt
Instructions
Pour milk in a medium saucepan. Add sugar and salt. Heat the milk for a few minutes on a medium low heat.

Add semolina to the saucepan. Cook the porridge for 5 minutes while stirring frequently so lumps don't form.

Turn of the heat, cover the pan and let it stand for further 5 minutes.

Transfer porridge to a bowl, add toppings and serve.