Continuing the breakfast and open sandwich theme, this post will contain all open breakfast sandwiches made with white bread. Surprisingly, vast majority – 8 out of 11 – of breakfast sandwiches in Vārīšanas and cepšanas māksla are made with white bread.
Bread
To make breakfast sandwiches, look for Vienna bread or even French baguette. The key is for bread to be with fine texture and distinct, but soft crust. Mass produced squared white loaves do not quite work for open sandwiches as they are too soft and do not hold the shape well. Slice the bread 1cm (1/3 inch) thick, do not remove crusts. Make sure the butter you use is softened, otherwise it will not spread well or even rip holes in the bread.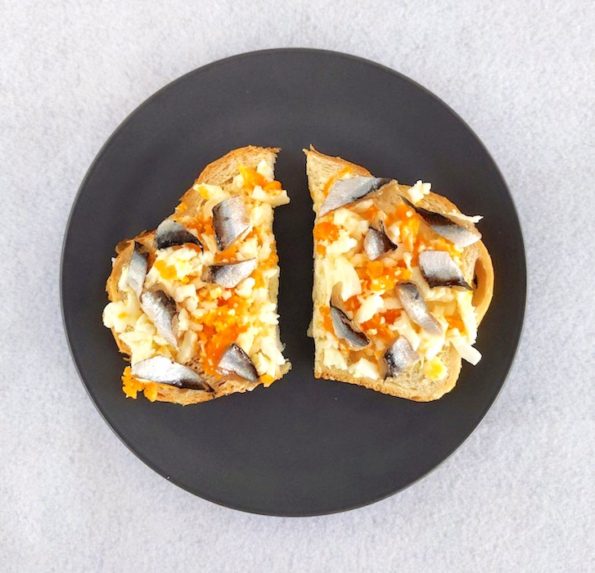 Olu maizītes (Egg sandwiches)
Recipe #1 in the book is Olu maizītes (Egg sandwiches). Recipe is quite simple: "finely chop hard boiled eggs, then spread good, fresh butter on thinly sliced white bread. Spread the eggs on the bread and garnish with strips of salmon or pieces of marinated sprats (ķilavas)". For each slice of bread you will need one hard boiled egg and 3 fillets of sprats. Do not add salt, as the fish is salty on its own. If you cannot find ķilavas, replace them with finely diced anchovies.
Šķiņķa maizītes (Ham sandwiches)
Recipe #2 is Šķiņķa maizītes (Ham sandwiches). Recipe is as follows: "spread butter on sliced white bread and cover with thinly sliced ham. Garnish with pieces of tomato and finely diced chives".  Use the best quality ham you can find. My recommendation is to use ham off the bone. Smoked pork loin or shoulder will also work well. Personally, I prefer cucumber with my ham as it works nicely with the saltiness of the ham, so feel free to swap and have a more of high tea feeling for your breakfast.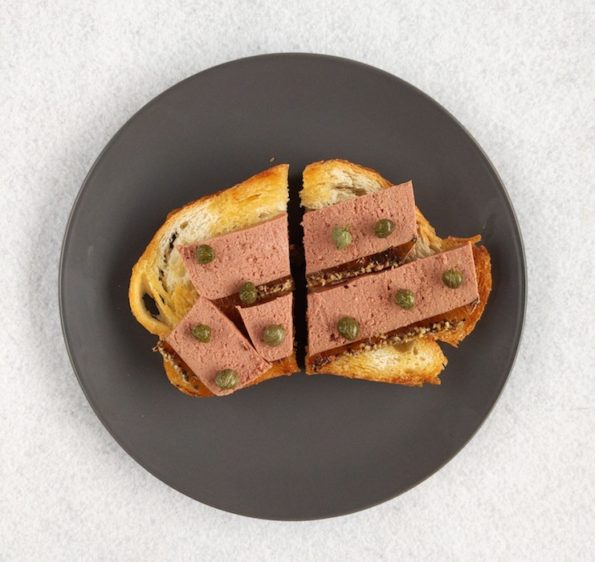 Pastētes maizītes (Pate sandwiches)
Recipe #6 demands to "place slices of pate or aspic on bread fried in butter; garnish with lemon slices or capers". Pate sandwiches are one of my favourite ones, but I never thought to fry the bread in butter and add capers; my go to combination is butter, pate and pickle garnish. However, I am a convert – bread is crispy and buttery and baby capers add a nice vinegary balance.
These sandwiches, if made with French baguette, are great for aukstais galds – Latvian style buffet, usually created for more informal celebrations.
Laša maizītes (Salmon sandwiches)
Lašmaizītes are a staple of every Latvian celebration – I remember this very special treat only appearing a few times a year, and I still love them. Recipe is very simple: "Spread fresh butter on thinly sliced white bread, cover with smoked salmon slices and garnish with salmon roe". I had to make two departures from the recipe. First, I do not like smoked salmon – the smoked salmon that is freely available in stores has a very artificial flavour and very soft texture, so I substituted smoked salmon with cured salmon. Second, I could not source salmon roe (or any orange roe), however, I don't feel like it detracted from the flavour.
Ikru maizītes (Fish roe sandwiches)
Recipe #8 is for a rather luxurious fish roe sandwich – I wouldn't call it an everyday fare in Latvia purely based on availability and cost of fish roe. Method is simple: "Take white bread, cut in squares or circles, whatever you prefer. Spread good butter on the bread and cover with red or black roe." I used black lumpfish caviar as it was the only one I could find in the shops, and the teeny tiny jar I got lasted me a while. You will only need a teaspoon of caviar per full slice of bread – the flavour was very strong and salty, so this sandwich could be saved for special occasions, rather than everyday breakfast.